Hello friends, Moba Mobile Legends game lovers. As usual, this time Tricksmobilelegends will share the build of the Mobile Legends hero again, namely the build of Angela who is sick in 2021.
The discussion this time is perfect for you as user support and mage, especially user Angela.
Hero Angela is a very useful support hero for the team, where her ultimate can be used to possess the friends she chooses.
The hero who is possessed by Angela will get a fairly thick shield and a high enough movement speed. In the hero's body he can still issue his skills which will certainly disturb the opponent.
When Angela's skill 1 hits her friend's hero, the hero will get healed. And if hit by an opposing hero, the hero will receive magical damage.
Skill 2 Angela throws a rope that can give a slow effect to the opponent's hero. If the rope does not come loose for 3 seconds then the opponent will be stunned.
Painful Angela Build, Spell & Emblem
Angela is a guard / support specialist hero whose skills the team really needs. Therefore, item selection will be focused on the cooldown reduction type mage.
However, this item will still increase the damage from Angela's skills. Curious? Come see a complete discussion of the items below!
Angela build hurts support
Courage Mask
As a support mage, the first item to buy is of course the item mask. Courage mask is the right item for Angela support, where every gold and exp from a creep or minion will be given to a nearby hero core, so that the core hero will quickly level up and get a lot of gold.
This item has passive skills called Devotion and Thriving. When this skill is activated, the nearby friends will get an increase in movement speed of 30% and damage by 20%.
Courage Mask also provides several additional effects such as +700 HP, + 10% cooldown reduction, and 25% movement speed. When you get a kill or assist, the user will get a gold bonus.
Demon Shoes
One of the tips for playing Angela is to transfer her skills to friends and foes. Because as we know, skill 1 can Heal friends and give magic damage to opponents.
Therefore we need which supply is a lot so that it doesn't run out halfway. Well, Demon Shoes will give you a large enough mana regen and can increase Angela's movement speed.
Fleeting Time
We all know that Angela's most helpful skill is her ultimate skill or skill 3. This skill can be used to possess one of her comrades with the aim of helping her fight.
However, this skill has a long cooldown. Therefore we need items that can speed up the reappearance of these skills, and you can choose Fleeting Time items.
This item will reduce Angela's ultimate cooldown skill by 30% after she gets a kill or assist. In addition, it also increases +70 magic power and 15% cooldown permanently. This item will make Angela's ultimate skill usable many times.
Necklace of Durance
Angela's next painful build is the Necklace of Durance. This item has a passive which can reduce the opponent's regen by 50% when the opponent is hit by a skill.
This item is perfect for fighting heroes who have high regen skills and who use lifesteal items such as Alucard, Uranus, Ruby, etc. In addition, we will also get +60 magic power, + 5% cooldown, and 10% lifesteal.
Ice Queen Wand
Furthermore, from the build that Angela hurts, it is highly recommended to choose Ice Queen Wand. Because this item can give a slow effect that is high enough for the opponent who is hit by the skill.
Ice Queen Wand is very suitable to choose because it fits very well with Angela's type of play who always spam skills 1 and 2. Angela will be a nuisance to her opponents because she always slows down their movements.
Other attributes obtained from this item are +75 magic power, + 10% lifesteal, +150 mana, and + 7% movement speed.
Immortality
As a complement to building Angela's pain, we shouldn't forget defense items. Because basically Angela is a bully support hero who has thin blood, so she is often targeted by enemy assassins.
For this reason, Immortality items can be the right choice as an addition to Angela's defense, where this item will revive Angela when she is eliminated.
In addition, the HP of this item user will also increase by +800 and physical defense by 40.
Spell – Flicker / Purify
As the explanation above, Angela will often be targeted first, because she is a bully and her blood is not thick either. To stay safe, you can use flicker or purify spells.
Flicker, this spell will make it easy for you to escape from your opponent's pursuit. The tips are to use flicker to jump over the wall so that the opposing hero cannot catch up because it is blocked.
Purify, when this spell is activated all negative effects will be removed in 1.2 seconds and get an Immunity effect which can release slow and stun and increase the hero's movement speed by 30%.
Purify is very useful for escaping CC heroes like Selena, Tigreal, Aurora, Silvana, Akai, etc.
Emblem – Custom Support
Talent Focusing Mark will increase nearby partner damage by 6% for 3 seconds, and this effect has a cooldown of 6 seconds.
3 Agility will speed up Angela's path.
3 Recovery will give you a hybrid regen effect.
Focusing Mark will increase the damage to nearby heroes.
Tips for Playing Angela
Angela's build is hurting just not enough to win. You have to know how to play Angela well and correctly so you can help the team and win the war.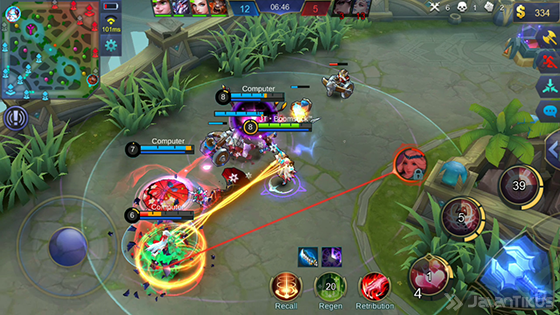 Here are some top global Angela play tips:
At the beginning of the game, buy a level 1 mask item first and then raise it to level 3, namely Courage Mask. Its function is so that gold and exp are given to the hero core.
Heal friends with skill 1.
Use skill 2 to tie your opponent. Try not to let go for 3 seconds so that your opponent is stunned.
Use ultimate to a friend who is dying.
Always look at the mini map, and if there is a war, immediately help by entering the fighting hero.
Prioritize entering heroes who have strong damage, so that these heroes can slaughter enemies.
Those are some tips for playing Angela. Thus the discussion about building Angela hurts this time. Keep an eye on this site because there will be many of the best Mobile Legends hero builds that we will share with you.
See you later…